FOREWORD FROM MARTHA TILAAR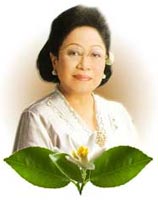 It seems yesterday when it first struck into my mind to embark on commercial production of jamu. Thirty five years ago, Jamu Sari Ayu Martha Tilaar was still produced as a home industry. Today, as we review Martha Tilaar group with its constellation of holding and subsidiary companies, with a myriad of beauty products and services, we are talking about a company of different magnitude. In a way, it seems unbelievable although my feeling of gratitude is there, and admittedly, my enchantment.
Looking back through the days of climbing up the ladder, I should say that on this day that I present this company profile, our success of today makes all of our struggle and sacrifice truly worthwhile.
Indonesia's economic rebound after 1998 crisis serves as an ideal background to our success, from which we have managed to benefit greatly. Naturally, our growth has been part of our nation's development, and the setting up of our modern plant exemplified our participation in the nation's industrialization plan. Ours is a healthy and responsible business enterprise, for we are more than just economically meaningful to the country; our business policies have never been without social and environmental responsibility.
With our sound business strategies, we have reasons to believe that our developments should be viewed with more optimism, taking into account our positive track record in production, marketing, and especially the exceptional growth since 1998, and also our success in maintaining efficiency and productivity. As we do so, we feel confident that an above-average industry profit will be sustainable for the next few years.
Our future direction will continue to follow the guidelines that have been established in our Vision and Mission.
Somehow, the most illuminating part is that we are still being firmly balanced between profit making and our ideal pursuance.
Our financial success today resulted from the sublimities of natural cosmetology and the enhancement of scientific research in the first place. Hence, our highest degree of commitment shall as ever to be taken on our profound belief in beauty care.
Our efforts have been rigorous, but I consider such as having its own reward; this is particularly so with the support of our steadfast leaders at the management level. I appreciate their roles just as much as I acknowledge the silent contribution of our hard working employees, the propelling force of our enterprise.
On behalf of the management of Martha Tilaar Group, I wish to reaffirm our commitments, particularly to our stakeholders. I am most grateful to all parties involved for their earnest support to our endeavors and I cannot think of a better moment to appeal for a closer cooperation in the future.